While experts recommend eating healthy during the lockdown, it can be difficult to curb your cravings during this phase due to anxiety and stress.
However, to help you prepare a healthy diet plan we have listed few recipes which you can follow in quarantine. Nutritious and easy to prepare – these recipes will help you take control of your diet during the lockdown.
Lavash Chips
Healthy and nutritious – lavish chips pair well with any dip, hot or cold.
Ingredients:
1 cup whole wheat flour
1 tsp garlic powder
1 tsp oregano powder
1 tsp mixed spices,
1 tsp red chilli flakes
2 tbsp oil
Little salt
Procedure:
Mix whole wheat flour, garlic powder, oregano, mixed spices, red chilli flakes, and salt together.
Now add oil to the mixture and knead the dough.
You can also sprinkle some water to the mixture if needed. Remember, the dough should neither be too stiff or too thin.
Roll the dough till about 0.25 cms thick like a roti. Next cut the roti in strips. Put it in a parchment paper on a baking tray and bake it for 20 minutes in a preheated oven at 180 degrees.
Serve when ready.
Quinoa Bites
Quinoa bites make a healthy snack. They're also a great immune boosting food option to choose instead of fried potatoes.
Ingredients
2 cups cooked quinoa

1 cup kidney beans
1 cup frozen corn
 1/2 cup diced yellow onion
 1/2 cup breadcrumbs
 2 large eggs
 1/2 cup shredded cheese
 2 tbs chopped cilantro
 1 tsp paprika
 1 tsp cumin
Procedure
Preheat oven to 350 degrees.
Mix together all the above ingredients.
Equally distribute the mixture into a greased mini muffin tin. Fill each cup to the top (1 heaping tbs each), and press down gently to compact.
Bake for 15-20 minutes.
Stuffed Baked Cauliflower
Lip-smacking and full of flavour, this stuffed baked cauliflower makes for an incredible meal – be it any day.
Ingredients For Boiling Cauliflower
1 big cauliflower
½ tsp turmeric
Little salt
Ingredients For Stuffing
1 cup paneer,
2 tsp thick curd,
½ tsp ginger – garlic paste,
few chopped cashews and some raisins,
½  tsp grounded cardamon,
½ tsp chilli powder,
Salt to taste,
½ cup coriander leaves
Some lemon juice
Ingredients For Gravy
2-3 bay leaves
spices like cloves, black peppercorn, mace, star anise, big cardamom
½ cup chopped ginger and garlic
½ cup roughly chopped onions
Few cashews and muskmelon seeds
½ tsp turmeric,
½ tsp  red chillies
½ tsp coriander powder
½ cup of milk
1-2 tsp cooking oil
Salt to taste
Chopped coriander for garnishing
Procedure
Take some water and boil 1 big cauliflower in a pot. Add salt and turmeric and allow it to boil for 3-4 minutes. Later, turn the vegetable upside down and again boil it for some time (make sure you don't over-boil it since you need to bake it in the end).  After a few minutes take it out on a plate.
For the Stuffing:
Take a bowl and add paneer, thick curd, ginger-garlic paste, few chopped cashews, some raisins, grounded cardamon, little chili powder, salt, chopped coriander leaves, and some lemon juice. Mix everything well.
Now take the semi-boiled cauliflower and stuff it with this mixture. Stuff it carefully between the florets without breaking it. Turn it around and stuff it from the stem side also.
Next place the stuffed cauliflower on a baking tray and bake it in a preheated oven for 12-15 minutes or till the top is nicely golden brown.
Meanwhile, prepare the gravy.
For Gravy:
Heat oil in a pan. Add bay leaf, cloves, black peppercorn, mace, star anise, big cardamom.
Then add chopped ginger and garlic and roughly chopped onions. Saute it together.
Add cashew and muskmelon seeds. Mix well.
Then add all the dry spices i.e. turmeric, red chilli powder, and coriander powder. Mix everything well.
Switch off the gas and allow it to cool.
Now grind this mixture in a grinder.
Take this mixture out in the pan and add half a cup of thick curd. Saute till the oil gets separated.
Add half cup of milk.
Let it cool on slow fire for 5-6 minutes. Add salt to taste. Now adjust the consistency by adding milk or water.

For presenting, in a serving dish, pour out this gravy. Place the stuffed cauliflower on top of it. Garnish it with coriander leaves.
Serve hot and enjoy!!!
Amritsari Kulchas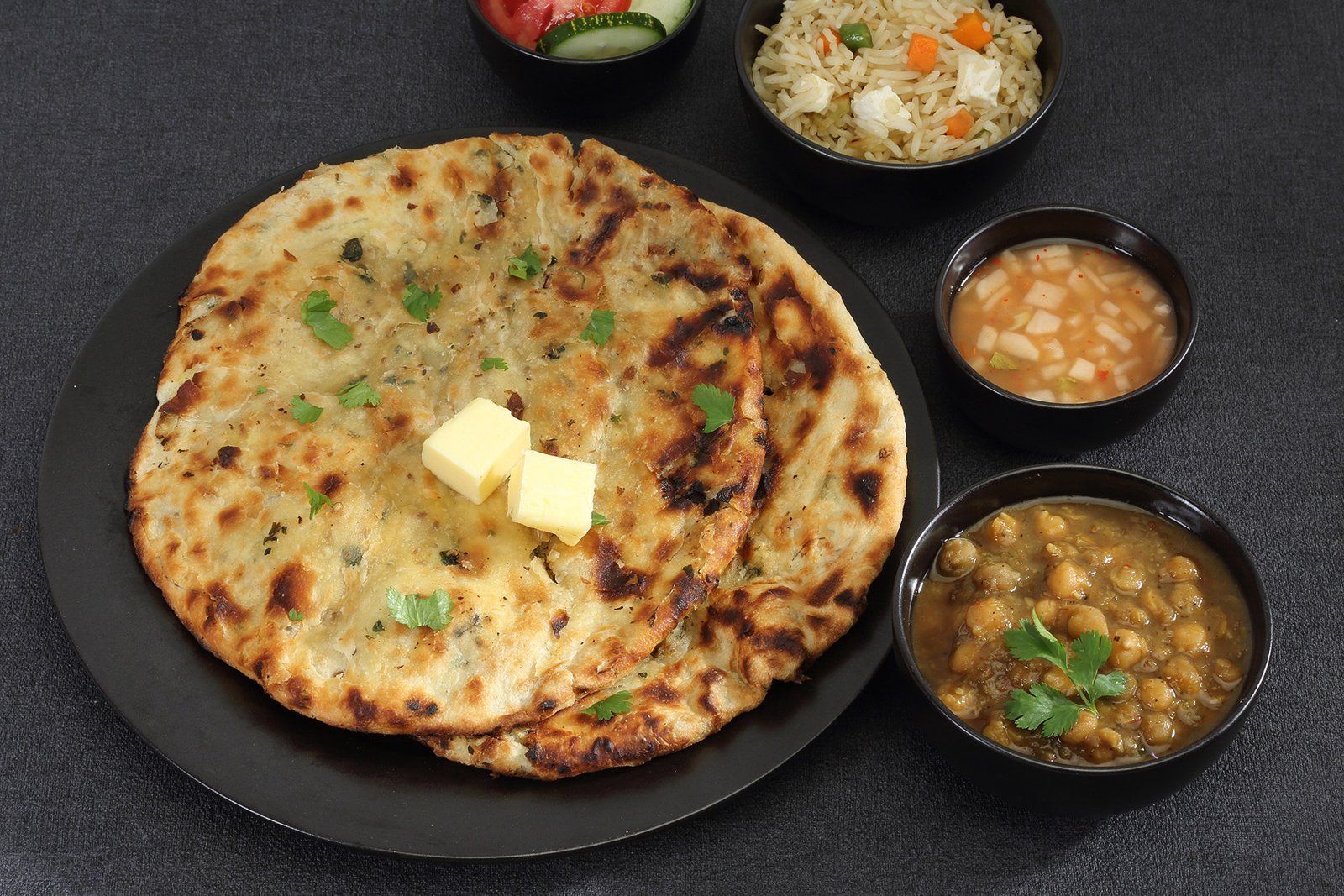 Amritsari Kulcha is a scrumptious, flavour-packed Indian bread.  Simple to prepare – you can include it in your healthy diet meal plan during the quarantine.
Ingredients
2 cup flour ( you can take equal portions of wheat flour and maida)
1 tsp baking powder
1 tsp sugar
1/4 tsp baking soda
2 tsp oil
salt to taste
1/4 cup curd
4-5 boiled potatoes
½ cup chopped onions
½ tsp red chilli powder
½ tsp amchur powder
½ cup coriander leaves
2-3  green chillies
A little mixture of chopped garlic, sesame seeds, coriander leaves, and green chillies.
Procedure
Take 2 cup flour. Add baking powder, sugar, baking soda, oil, salt, and curd. Knead it with lukewarm water. Cover and keep it for at least 1 hour.

Now for the stuffing. Mash the boiled potatoes. Add chopped onions, salt, red chilli powder, amchur powder, coriander leaves and green chillies.

Next roll the kulchas. Add the stuffing and roll it again in whatever shape you like.

Put some chopped garlic, sesame seeds, coriander leaves, and green chillies on top and press it with your palm.

Make the kulchas in a pre-heated tandoor.

Apply some ghee and serve with channas or paneer dish.

If you don't have a tandoor, you can make it on an inverted tawa also.
You can prepare these 
food recipes for kids
 and adults. Healthy, nourishing and wholesome – these culinary delights will soothe everyone's taste-buds.